Sometimes you go to a dollar bin and see the same cards you already have in your collection 10 times over (Mark Recchi 90-91 UD Rookies) and sometimes you find something that makes you go...."Hey!". I had such moment finding these:
89-90 OPC Brian Bradley Auto Rookie
This is not a buyback rookie but likely an autograph that someone got in person. Not having any comparables or anything like that I bought this card on blind faith. Seriously, who'd forge Brian Bradley's signature.
Here is a legit one I found online as a comparison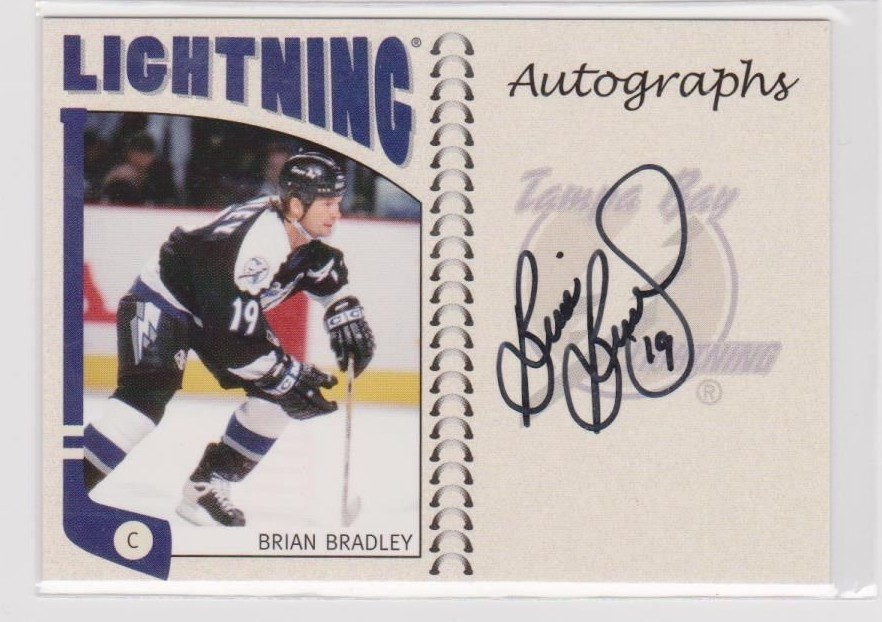 Apart from a sloppy thick sharpie on my signature is all seems legit. Brian wore 19 during his prime years so I am guessing that is why he signed this one with a 19 instead of 10. Also dates my autograph in the post 1993 range.
Brian Bradley was a fun pick up because I remember him as Mr. Expansion draft and he had a monster year with the Lightning scoring over 40 goals in a season.
90-91 Bowman Wendell Young Auto Rookie
Here is another fun auto for a dollar. In fact, I got two of him. There was also an OPC rookie as well which I grabbed but only bothered scanning the one card. I didn't doubt this one for a second because Wendell was from Halifax and this autograph could have been easily obtained by a collector in my province who bumped into Wendell Young. Neat fact I learned while researching this post is Wendell Young is the only person who has rings from the following championships: CHL, AHL, IHL and NHL. Certainly a very fun trivia question to ask someone!
Anyway, two fun players who both had some successes and at a cost that was totally worth the risk. I don't believe I could even buy two stamps and get these via TTM for that price. Have you ever taken a chance on an autograph that wasn't certified? Anyway, thanks again for stopping by and happy collecting!