Where I live in rural Nova Scotia, card shops are few and FAR between. In a 45 min drive I have access to exactly three. One is my favourite, the owner and I are friends and he knows how to wheel and deal. In the end he deals with quantity of transactions rather than trying to triple his investment off one card. If you are the kind of person who likes to flip cards he "leaves some meat on the bone" if you want to turn a profit and I have been fortunate to get deals and resell and get deals and enjoy the card as is in my collection. The next one is not really a card shop, more of a junk shop. But awesome junk and I honestly love the place and can spend years in there. The third is a shop that pretty much deals in packs and he keeps little to no inventory so I don't tend to go there much. In all three cases, you can wheel and you can deal with my friends place being the best of the lot.
This past week I was in Toronto and really hoped to get to a card shop. Sadly the trip was so packed with things and the location of the one I did find wasn't too close I didn't get any chance to get there. I did stop by the Hockey Hall of Fame and got my pic with the Stanley Cup! I also saw the REAL Stanley Cup and many many many other cool things. I'll post some of those things up at a later date. I did see some pretty awesome cards at the HHoF too which I took a few snaps of as well.
Since I wasn't able to get into a card shop but I was itching to look at some cool cards I decided to check out a shop in Halifax I had never been to before and have only heard things about. I walked into the store and I must say I was impressed. A very large shop with loads of space, immediately I got my hopes up. But as soon as I walked to the first display, hopes were dashed. Every card had a large white sticker on them saying those dreaded and awful words "Book Price". Yep, every card in the store's many display cases had those ridiculous white stickers and Beckett High price. Some did have "Sale Price" on them too but they would be like this following scenario: Let's say you have a Marcel Dionne card in VG-Ex condition. Now, when you read the book price on this card it's 150 dollars (IF THE CARD IS IN NrMT CONDITION). However, they in this shop feel the book price is the book price so they have it listed at book price of 150 which more accurately should have been listed at 45-50 dollars given it was no where near NrMT condition in the past 30-40 years. Then they had the audacity to list it at a sale price of about 90 dollars. To put this into perspective, on eBay a Dionne rookie graded PSA 5 definitely nicer than this card sold for 46 dollars Canadian.
As I went through the store more and more disappointment, nice cards and insane prices. A pretty decent looking Toews The Cup Rookie... Books for $2000. They didn't for some reason list a book price this time but instead had a $6000 price tag on it. It wasn't even the best swatch I've ever seen on a Toews The Cup and they want 6 grand for it. The best part was I asked about the prices and they didn't even blink when they told me they are all as listed. They did have a display case with 25% and 50% off BOOK PRICE and they were pretty sketchy cards many barely even VG. I can certainly find way cooler ways to spend $6000 on cardboard. Perhaps a Bobby Hull and Bobby Orr rookie for starters.
So I did what most sane people would do and that was leave. Sad and empty handed. But alas there are two other card shops in Halifax and I went to a different one and found some fun. This stop is half cards and have shirts and memorabilia. They have only one display case filled with cards all sanely priced. There was a nice Terry Sawchuk Memorial card from 70-71 OPC. It books for 60 in NrMT condition but it was sadly only in Ex condition. Price on the card....$20 dollars. What? Should'nt this be a 60 dollar card? At the other shop it would be but in the sane world it's a $20 dollar card. Real Book Price would be about $24 which is a very fair deal given how old and nice looking this card was. I was tempted to buy but I held off because I found something even more interesting for the same $20 dollars it would have case me for the Sawchuk.
1934-43 Group 1 Bee Hives!!!
1934-43 Group 1 Bee Hive Gord Drillon
First up was the answer to the following trivial question (thanks to the card shop owner): Who was the last Maple Leaf to win the Art Ross Trophy? Gord Drillon 1937-38. While these aren't considered true hockey cards by some, they are to me. Especially if you consider 39-40 OPC as hockey cards. This beauty is at least 70+ years old and looks alright considering. Like most Bee Hives, this one has a beige border and features the same photo as his rookie card:
37-38 OPC Gord Drillon RC (not mine)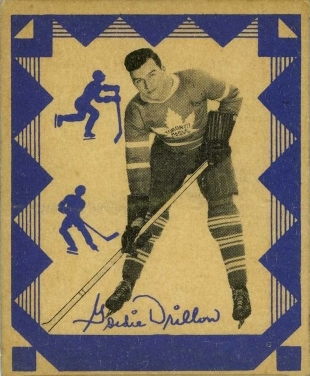 Second up is this HOFer which I was particularly drawn to:
1934-43 Group 1 Bee Hive Walter Turk Broda
A blue border! I haven't seen many of these ever and did a double take at first given the subject, colour and price. This isn't the exact photo on his rookie card but still is a pretty cool shot if you ask me. Again, it's hard to say when this card was created but it could have been from any time between 1936-43 given that's when he was active during this production run. However, much like Drillon this card also looks like his 37-38 OPC card putting it in around that time line.
So I know Bee Hive cards aren't as desirable as other cards from the time period and they tend to be more numerous because people kept them more but these two were purchased for the same $20 as the Sawchuk and more importantly for way less than more things at the overpriced card shop I went to first. I applaud the owner of D&M Sports in Halifax for having reasonable prices and I am sure if I wanted to lump a few extra cards in I could have struck a deal. In the end I have two more beauties and another shop I am proud to call my LCS even if it's an hour away.
Thanks for stopping by, a couple more fun and card related posts coming up soon! I am curious, do many of you out there have this same problem where there are card shops that are run properly and others that are just foolishly run?